Preparations are being made for the historic Shree Shiv Jayanti procession to be held in Belgaum city tomorrow and Belgaum North MLA Asif aka Raju Sait inspected the procession route on Friday morning. Also, he gave necessary instructions to the officials present so that the procession goes smoothly without any inconvenience to the citizens and Shiva lovers.
In the background of Shree Shiv Jayanti procession to be held in the city tomorrow, Belgaum North MLA Raju Seth inspected the procession route on Friday morning. On this occasion Deputy Commissioner of Police T. S. Shekhar, municipal commissioner Rudresh Ghali, senior municipal engineer Lakshmi Nippanikar along with officials of HESCOM and other departments as well as president of Shree Shiv Jayanti Chitrarath Corporation Sunil Jadhav, Raju Kadolkar, Amit Jadhav etc were present.
MLA Sait started his inspection tour from Nargundkar Bhave Chowk. After that, the MLAs took a walking tour through Maruti Galli, Hutatma Chowk, Ramdev Galli, Samadevi Galli, College Road and Dharmaveer Sambhaji Chowk.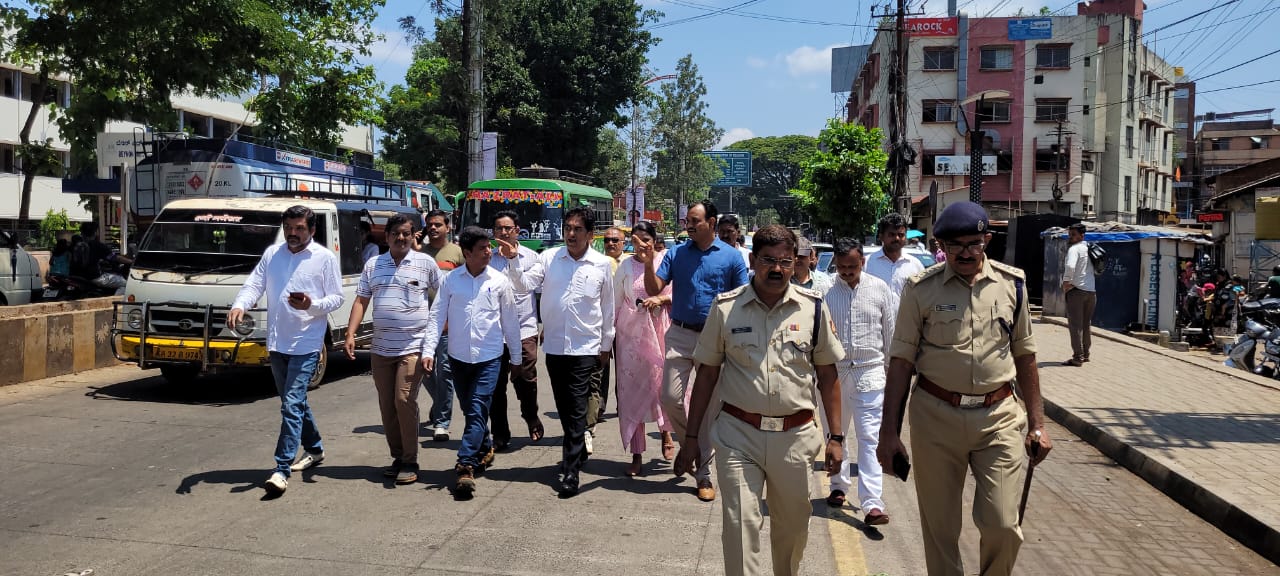 During the said inspection tour, MLA Raju Sait instructed the municipal commissioner to provide clean drinking water at suitable places so that citizens and devotees of Shiva who come to see Shri Shiv Jayanti procession are not inconvenienced. Similarly, Hescom officials were instructed to properly secure the electric wires hanging down on the road. Apart from this, he made some other suggestions saying that focus lights should be installed at necessary places.
Speaking to Belgaum Buzz  on the occasion, MLA Asif alias Raju Saith  said that like every year, let the people of all castes, religions and languages ​​come together to celebrate the birth anniversary of Chhatrapati Shivaji Maharaj in a peaceful and energetic atmosphere. Let us all celebrate Shiv Jayanti together in a good and beautiful way. Let us show that Shivaji Maharaj is a great man of our country.
Then I request all the people to participate in this Jayanti celebration in large numbers. We are all together. MLA Sait  finally said that let's give a good tribute to Shivaji Maharaj.