Based on the information provided by Khabra, CCB police in the city raided the apartment of Veerupakshi Residency in Sadashivnagar yesterday and seized illegal fake liquor and other materials worth Rs. 4 lakh and arrested two persons in this connection.
The accused have been arrested by the police as Hasan Saheb Bepari (age 22, resident of Ujwalnagar, Belgaum) and Rajesh Keshav Nayak (age 41, resident of Vijayanagar, Hindalga, Belgaum). A team headed by Police Inspector Altaf Mulla of CCB Division took the above action under the guidance of senior police officers.
According to the information received from the police, both the above accused were collecting empty liquor bottles. After that, fake high quality liquor was manufactured by chemically processing very cheap liquor produced in Goa and Karnataka states.
They used to fill this liquor in their own empty bottles and pack the bottles by labeling them with different brands of liquor. They were also selling fake liquor bottles in boxes of the same brand. They were making huge profits from counterfeit liquor in this manner without the permission of the parent company and the government. As this type of fraud is cheating the public and the government, the city CCB police raided and seized the goods along with the accused.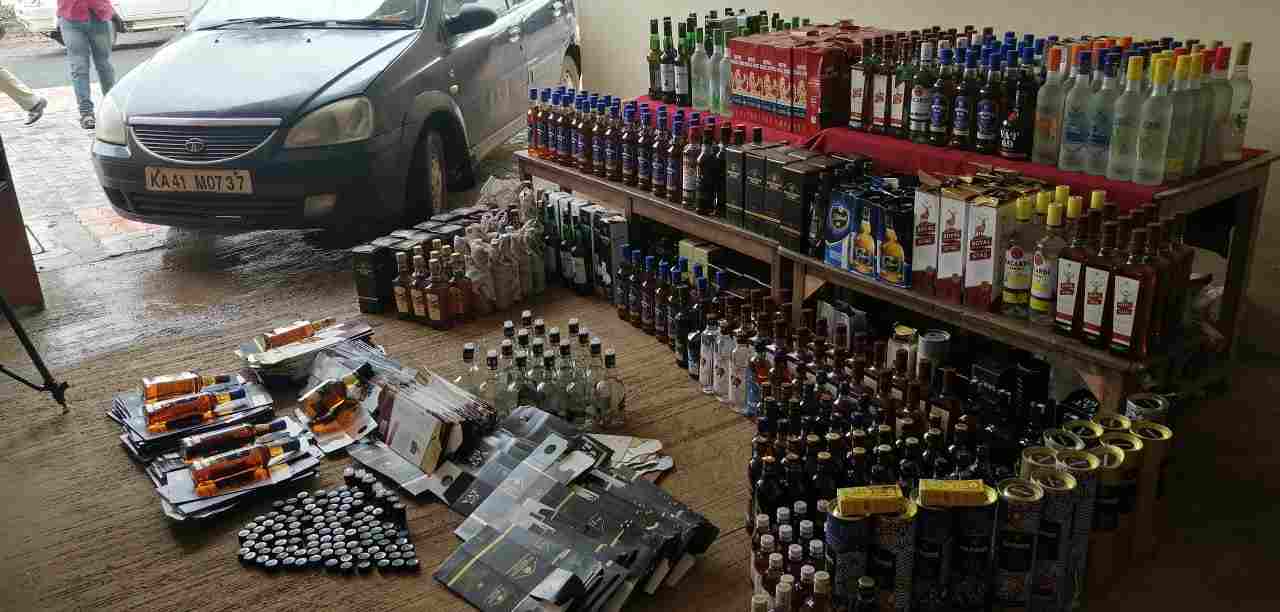 100 Pipers, Blender's Pride, Vat-69, Black & White, Royal Stag, Royal Challenge, Magic Moments, Smirnoff, McDowell's, Bacardi Old Monk, Real-7, Imperial Blue, DSP Black, Black Dog were among the items worth Rs 4 lakh seized by the police. , 439 bottles of 750 ml each of spurious liquors of the brand of Teachers Company, namely Whisky, Rum, Hodka. 20 bottles of 375 ml of Original Choice liquor, two tetra packs of 180 ml of Old Tavarin liquor, an Indica car used for transporting liquor, four mobile phones worth Rs 21,500 and cash of Rs 17,500.
Police said that two more accused Javed Bepari and Nagesh in this case are absconding and they will be nabbed soon. A case has been registered in the city police station and further investigation is underway.