All the systems of the municipal corporation are involved in the preparations for the Prime Minister's visit, and due to their clear neglect of the city's cleanliness work, the sewage of the Kamat Galli, which is located in the center of the city, is currently overflowing on the road. As a result of this unsanitary situation and stench spread everywhere, the citizens are expressing intense anger.
The drainage pipeline in Kamat Galli in the city is blocked and foul-smelling sewage is currently flowing on the road in large quantities. Due to this type of pollution, it has become difficult for the citizens to travel on the road. As soon as the corporator of this area Jyoti Kadolkar got the information about the incident, she immediately reached the spot and a sanitation worker made efforts to drain the sewage from Karvi drainage, but those efforts are proving to be insufficient.
The drainage in Kamat Galli gets clogged and the sewage from the chamber spreads all over the road. Speaking to Belgaon Live in this regard, corporator Kadolkar said that despite giving ideas to Municipal Commissioners, MLAs and other concerned officials about the problem of drainage many times in the past, it has not been taken into consideration. Only three sweepers have been given for cleaning work in the ward and they are insufficient for cleaning work. He clarified that a complaint has also been filed but it is not being taken into consideration. On the whole, due to the negligence of the municipal authorities, we can see the picture that the drainage is blocked in Kamat Galli and the foul-smelling sewage is flowing on the road.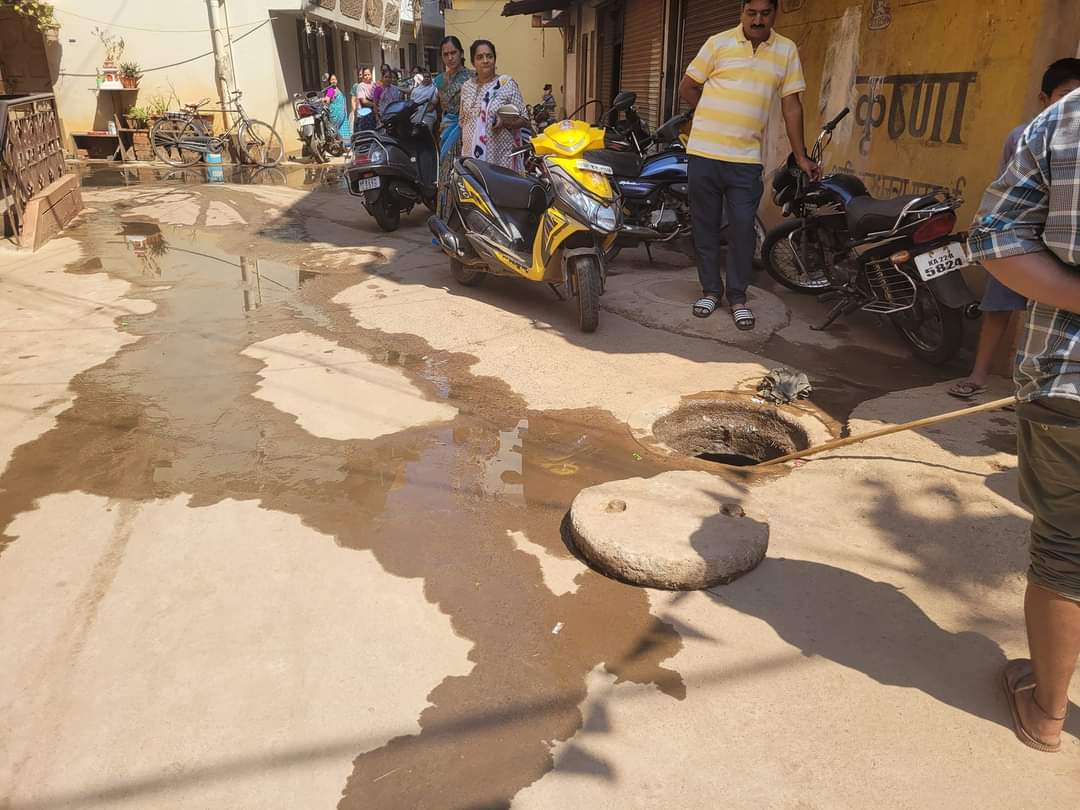 Women in the street also expressed their anger today about this type of continuous drainage overflow and sewage spreading all over the road. He complained that sewage and filth were causing foul odors in the houses up to the kitchen. Apart from this, since the drinking water coming to the tap is also mixed with sewage, how to use the water for drinking? He asked that question. Apart from this, the women expressed their anger that the municipal officials are ignoring this type of situation.
Due to the continuous flow of foul-smelling sewage from the overall drainage, the possibility of creating a threat to the health of the citizens of Kamat Galli cannot be ruled out. There is a strong demand that the MLAs along with senior officials of the Municipal Corporation should pay serious attention and solve the problem of drainage at Kamat Galli immediately.