Belgaum : Preparations for Prime Minister Narendra Modi's visit to Belgaum are currently underway. Which important road in Belgaum city will be their road show? This has not been decided yet. Therefore, most of the important roads where the road show is likely to take place are being repaired. All the roads that used to jump while passing through this road, people used to jump while walking and could not even walk properly have now become smooth.
Modi ji allows road shows on any road, but because of him, most of the connected roads have become smooth and bumpy. This has been satisfactory for the people of Belgaon. That is why common Belgaoners are saying that Modi ji should come to Belgaon at least once a month. Prime Minister Narendra Modi is known all over the world as an all-powerful and powerful personality.
After 2014, the whole country got to see the charisma of Modiji. Before that, his Gujarat model was heard all over the country. But Modiji became the Prime Minister and his second term in a row became famous. Now preparations for the third term are underway. Modi ji chose Belgaum for his own rally in Karnataka when it was said to be his preparatory exam i.e. Karnataka election. This is satisfactory for the people of Belgaon. BJP party's election calculations and Modiji's coming will benefit the BJP? This is a personal matter of BJP. But the people of Belgaum have started getting a different benefit…
If you look at the preparations for the arrival of the all-powerful personality Prime Minister Narendra Modi, the roads of Belgaon have become smooth and bumpy… So if Modi ji just announces that he will come to Belgaon once in two months, the suffering of the people of Belgaon will usually go away…. Such is the feeling of common citizens.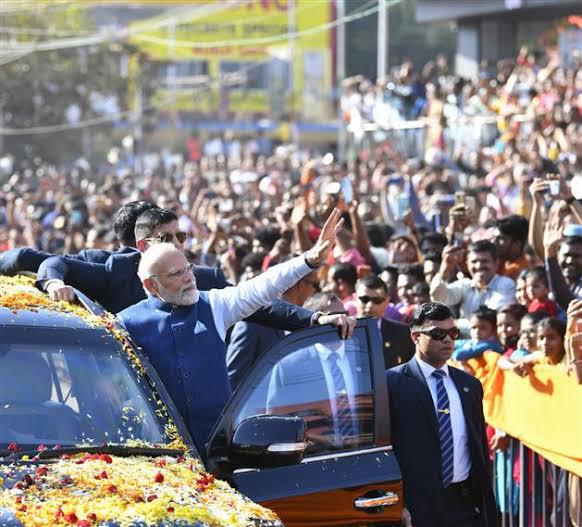 After Modiji first took the reins of India in 2014, he introduced the Smart City scheme to improve the conditions of some cities. Belgaum was included in the first phase of the Smart City, and Belgaumans are waiting for Belgaum to become smart. Since 2015 to 2016, the people of Belgaon have been facing the situation of road closures, ongoing works on different roads and more potholes than smooth roads in the name of smart city. In all such situations, many central leaders came and went, certain roads were smoothed due to which road they were going to take, but on the occasion of Modiji's arrival, many roads in Belgaum city became smooth. The common people of Belgaum are more satisfied with this than the BJP.
On this occasion, many ordinary Belgaumans have expressed their reaction to Belgaum Live that they should thank Modiji. Who will benefit from Prime Minister Narendra Modi's visit to Belgaum? Who will get the ticket? Who tries endlessly? In all these circumstances, the common people of Belgaon are expressing the feeling that the roads are in good condition and various facilities are available, so Modi ji should visit Belgaum frequently.