Nikita Vaiju Patil, a 26-year-old girl from a farmer's family from Jafarwadi, has shown that if one has great determination, self-confidence and willingness to work hard, even if one's dream cannot be realized, a new beautiful dream can be realized. Circumstances put her dream of becoming a chartered accountant aside and today she has become a progressive farmer cultivating scientifically. Ideal for the young generation, Nikita Chili earns lakhs of rupees in production.
Nikita Vaiju Patil from Jafarwadi was studying day and night with the dream of becoming a Chartered Accountant (CA) when her father passed away. Therefore, the responsibility of continuing the family as well as the generational farming business fell on the young shoulders of Nikita. But without wavering, she started to change her father's agriculture by twisting her CA dreams.
In today's age where agriculture is frowned upon, she has become a subject of appreciation in the area by earning lakhs of rupees a month from seasonal crops like chilli. Nikita has become an ideal young farmer who believes that if we work hard in the fields and serve the Mother Earth, her blessings remain with us forever.
Last year Nikita's father Vaiju Patil committed suicide by hanging himself at his residence and the Patil family was devastated. Who will cultivate 4 acres of farm land as Karta Purush disappears? Such a question arose. At that time, Nikita had completed B.Com from Bhaurao Kakatkar College, Belgaum and was pursuing CA course at Bharatesh College.
She wanted to become a CA and work in a company in Bangalore or Pune. But due to the sudden death of his father, there was a big upheaval in Nikita's life. Aged mother Anjana Patil and elder brother Abhishek did not expect much from farming. But Nikita, who acquired knowledge of agriculture by staying with his father, decided to quit his studies and take up agriculture six months after his death. Nikita's family was surprised by this decision. How will your daughter who has come of age engage in agricultural work? He was worried about this. But Nikita surprised everyone with his determination and self-confidence. She left education and became a full-time farmer.
Nikita, who was fond of agriculture since childhood, planted pepper plants in one acre of his father's four acre farm. She installed drip irrigation while planting the plants. During the first harvest, more than four tons of chillies were harvested. 500 rupees for 10 kg of chillies. This resulted in a profit of lakhs of rupees.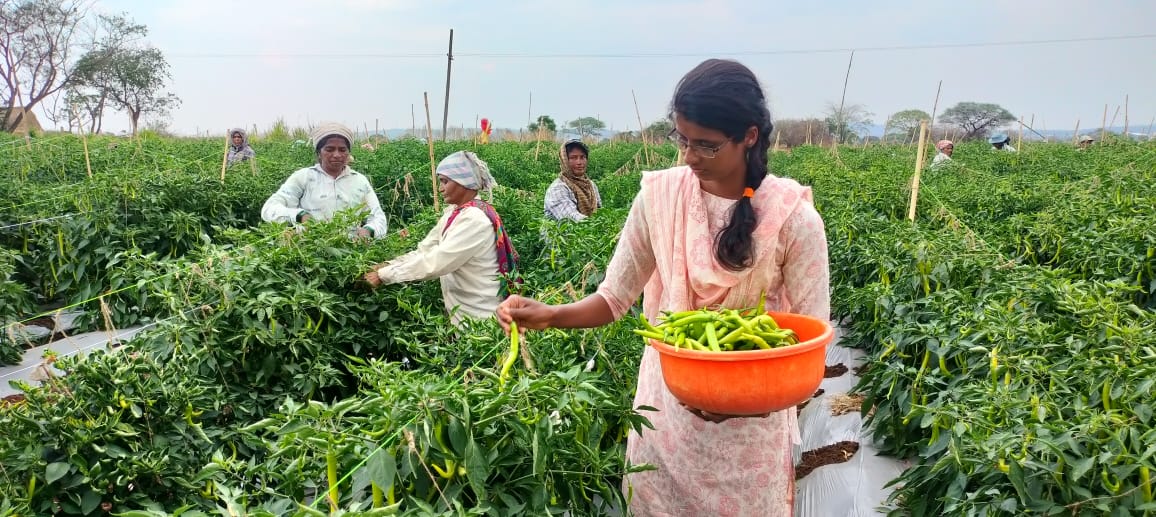 Income of Rs.6 lakhs per month. Today, 10-15 women work in her field to harvest chillies. Chillies are removed every 10-12 days. Since one acre of land is divided into three parts, it takes 4-5 days to grow one part of chillies. After taking care of the plants, watering and weeding, the chillies are re-planted after 10-12 days in another area. Chillies are harvested thrice in 35 to 40 days. 2 to 2.30 lakh rupees per tod of chillies. There is a huge demand for Nikita growing chillies. The price of this pepper which grows 3 to 5 inches is also high. Chillies are packed in 10 kg bags. These chillies are also sent to Goa and Kolhapur. So far Nikita has earned more than 8 lakhs excluding expenses.
Nikita, who has become a successful progressive farmer, is supported by her brother Abhishek and family. Uncle Tanaji Patil gives the scientific advice needed for better income in agriculture.
It can be seen that under the guidance of elder brother Abhishek on one hand and uncle Tanaji on the other, Nikita indulged in agriculture. Today I don't feel too sad that I gave up my CA studies halfway through farming. It is better than working in big cities. Nikita Vaiju Patil says with great pride that it is because of agriculture that I am earning good income for my family today by cultivating chilli scientifically.