The British built Hindalga Jail or Hindalga Central Jail in 1923 spread over a spacious 99 acres of land and having three gallows. With a capacity to accommodate as many as 1,162 prisoners, this jail is one of the highlights of Belgaum and is about 6 km from the city. Located at a distance.
Hindalga Central Jail, also known as Hindalga Jail, is one of the various jails in Karnataka, which is considered to be the highest as well as impregnable in terms of the most famous and highly secured correctional facilities. Hindalga Jail is the only prison in the state where capital punishment is carried out due to its three British-era hanging columns. Notorious criminals, raw prisoners, jungle robbers and suspected SIMI operatives haunt this prison. Hindalga Jail also has historical significance. Because once upon a time during the freedom movement, this jail housed prominent national leaders of the country like Mahatma Gandhi and Pandit Nehru. Hindalga Jail, which was functioning as a major military base in the British Empire, played an important role in maintaining law and order in Belgaum. When it became necessary to incarcerate prominent leaders like Gandhi and Nehru, the Hindalga Jail was established in 1923 with three gallows and a capacity of 1,162 prisoners. Vinayak Damodar Savarkar, popularly known as the freedom fighter Savarkar, was among the freedom fighters who were imprisoned in Hindalga Jail. He served 100 days of imprisonment from 4th April 1950 to 13th July 1950. Interestingly, while in this prison, he was eligible for death penalty. The name of the last prisoner to be executed in Hindalaga Jail is Hanumappa Mariappa Marial (Rest. Gokak). Hanumappa was hanged on the gallows in Hindalga Jail on 9th November 1983 after he was found guilty of murdering 5 people. Earlier in 1976 6 people and in 1978 another 5 people have been sentenced to death in this prison.
Hindalga Central Jail is spread over 99 acres of which nearly 30 acres are used for agriculture and animal grazing. The premises of this jail which is rich in greenery is rich in trees and the open space in it has bushes and plants. The work of keeping this natural environment intact and conserving it is done by the prison authorities, staff and inmates.
The said prison consists of two large complexes facing each other. One of these complexes houses the barracks for sentenced male prisoners, while the other complex is for raw prisoners. The section for sentenced prisoners includes work quarters and barracks for them. The work space has powerloom, handloom, tailoring etc facilities. There are cells and barracks in the Kacha Prison Department. It also has a library, carpentry room, tailoring department along with some special cells for high security inmates. There is also a separate section for detainees requiring extra high security. It is here that death row prisoners have to spend their last few days as well as fulfill their last wishes. A small gate leads through this section to the only functioning gallows in Karnataka.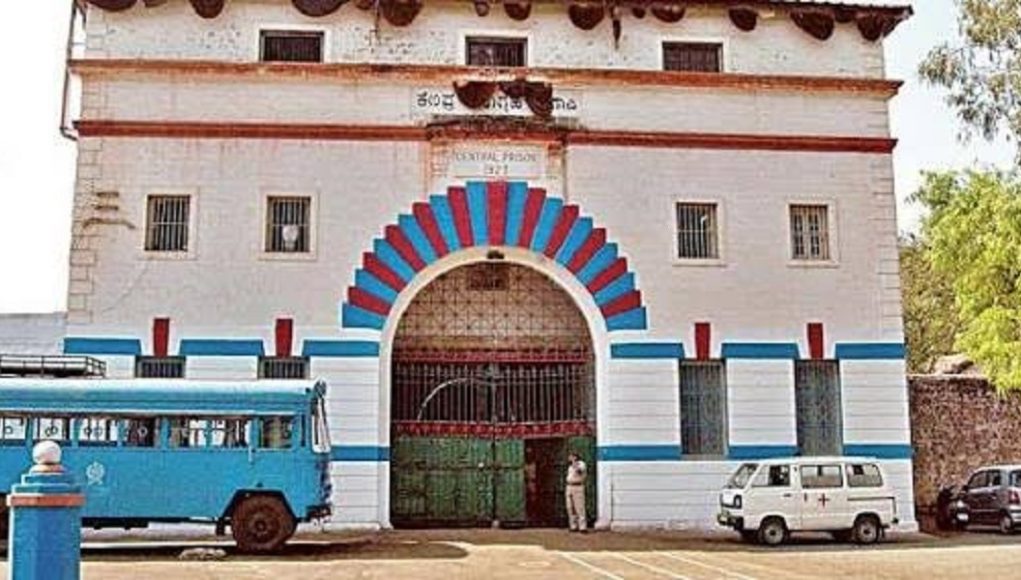 During the non-cooperation movement against the British and the Dandi Yatra, a large number of freedom fighters not only from Belgaum area but also from nearby regions were lodged in Hindalga Jail. Some movies like the Kannada movie 'Meencheen Ott' and the Hindi movie 'Mohra' have also been shot at this historical prison location. Hindalga Jail is not only famous for its historical significance and cinematic appeal but it has also come into limelight for some sinister reasons. There are instances of inmates serving sentences in this prison making threatening phone calls to persons in the outside world. The latest shocking example is the recent extortion threat phone calls made to Union Minister Nitin Gadkari from Belgaum's Hindalga Jail. A police investigation has revealed that Afsar Pasha, a member of the notorious Lashkar-e-Toiba (LeT), was the mastermind behind the act. This matter sheds light on the alarming activities in Hindalga Jail.