Belgaum: Before coming to power, Congress had released a manifesto in the state. The manifesto announced various schemes like Griha Jyoti Yojana, Griha Lakshmi Yojana, Annabhagya Yojana, Shakti Yojana, scheme for unemployed graduates and diploma holders. The Congress government has now come to power and people are paying attention to when these promises will be fulfilled. Today, Siddaramaiah took oath as the Chief Minister of Karnataka and after the swearing-in ceremony, Siddaramaiah called a press conference and gave more information about it.
Speaking at a press conference, Siddaramaiah said, the five guarantees given before the elections in the first cabinet meeting of the Congress government have been approved in principle. He informed that an order will be taken after discussing this matter in more detail in the next meeting. Siddaramaiah announced that he would give Rs 2000 per month to housewives under Griha Laxmi Yojana, 200 units of free electricity under Griha Jyoti Yojana, 10 kg rice per person under Annabhagya Yojana, free bus travel for women under Shakti Yojana, Rs 3000 per month to unemployed graduates, Rs 1500 per month to unemployed diploma holders. The terms and conditions of the guarantee will be discussed in the next meeting and a final decision will be taken, said Siddaramaiah.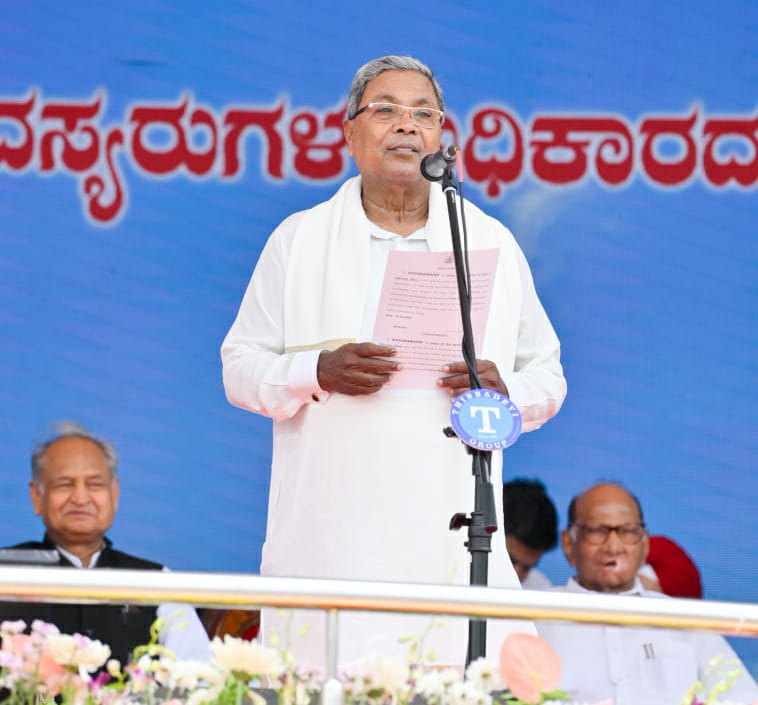 We had given many promises to the public in the manifesto. However, these are not just promises that will be fulfilled in one year. Along with this, five guarantees were given to the people of the state. He expressed confidence that the implementation of the 5 guarantees given by us in the first phase has been discussed and the Congress will act firmly on what it says. He said that 50 thousand crores are needed to fulfill the 5 promises made by the Congress and this year, 50 thousand crores will come from the Centre.
He also expressed his displeasure over the unfair treatment of Karnataka by the Center despite the fact that 4 lakh crores of tax is being paid from Karnataka. Although the five promises made by the Congress have been approved in the very first cabinet meeting, public attention is focused on when these promises will be implemented.